Project Information Materials
CO 60 and I-25 interchange
The Colorado Highway 60 and I-25 interchange currently follows a single-lane Diverging Diamond Interchange (DDI) traffic pattern.

When driving a DDI, motorists proceed through a traffic signal upon entering the interchange and simply follow their lane to the opposite side of the roadway. Drivers needing to access I-25 from CO 60 will turn left at the on-ramp without having to stop again or wait for oncoming traffic to pass. Through traffic proceeds to a second traffic signal and follows the lane back to the customary side of the road.

When the interchange is complete, which is expected in mid-2023, there will be two lanes in each direction with a 10-foot-wide sidewalk, and upgraded landscaping and aesthetics. Upon reopening the interchange in early October, CO 60 over I-25 will be in a one-lane in each direction DDI configuration to finish landscaping, irrigation and concrete work. Motorists are encouraged to use caution after the interchange reopens, as the traffic pattern will be significantly different and construction vehicles will be parked in the closed lanes (shown in the red shading on the diagram).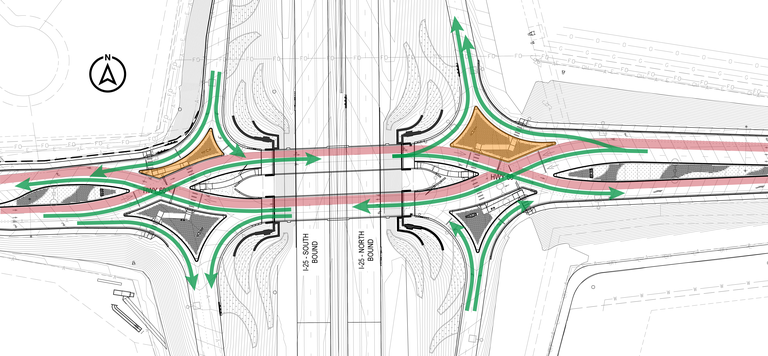 Great Western Railroad Bridge Time Lapse 
The Great Western Railroad Bridge was constructed in two phases/halves offline about 20 feet south of the railroad alignment. Once constructed, the existing halves of the bridge were removed and the newly constructed portions were rolled into place. This timelapse shows the western portion of the bridge going into place. Due to the unique phasing of the roadway work, no I-25 lane closures were needed to either construct the new bridge or demolish the old structure.
I-25 North and US 34 Traffic Phasing
Have you ever wondered how crews on the I-25 North Express Lanes Project are able to build a new highway without closing the existing highway? When traveling through the I-25 North Express Lanes project, motorists are often navigating a series of intricate traffic shifts. The traffic shifts allow crews to safely maintain traffic and complete the construction in phases. This graphic highlights the traffic phasing at I-25 North and US 34 in Loveland. Work in this area began along the median in fall 2019. In Spring 2020, all traffic was shifted to the southbound lanes so that construction could take place on the northbound lanes. This year, crews are working in the median again. Finally, traffic will shift to the northbound lanes while crews build the southbound lanes. When navigating these work areas, please remember to be patient, drive distraction free and always and slow for the cone zone.
Click the timeline above or use the arrows to explore the traffic phases.
Little Thompson River Bridge 
View the Changes to Local Frontage Roads Factsheet
Colorado Highway 60 Bridge Work
Check out the videos below of the I-25 North Express Lanes Project crews erecting the new bridge girders and demolishing the old CO 60 bridge over I-25!